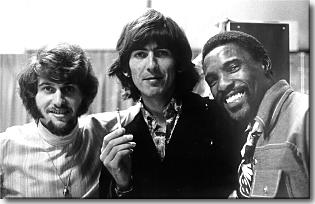 Johnny, George Harrison, and Al Wilson, 1967

Johnny's first single, a cover of Chuck Berry's Memphis, came from the Johnny Rivers At The Whisky A Go Go album. His version, more driving and bluesy than Berry's original, was so popular that Johnny had to play it three times a night at the Whisky. "We used to play 'Hi-Heel Sneakers' with that same beat, that same feel," he says. "'Memphis' evolved out of that."

Amid the deluge of British hits, "Memphis" became the #2 song in the country that summer. "It was instant." Rivers remembers. "It took off like a skyrocket." The followup, his version of Berry's "Maybelline," reached #12 on the Billboard charts. "We wanted to play it safe and follow up with another Chuck Berry song," Rivers says. "I played harmonica which was out of tune. I listen and kind of cringe. I never liked my recording of that, but I listen now and I guess it's not so bad."

His third single, a cover of Harold Dorman's 1960 hit "Mountain Of Love," was Rivers' first Imperial studio single. He used legendary drummer Hal Blaine and ex-Sun rockabilly artist Billy Lee Riley, who played harmonica. Single four, a revved-up version of the folk tune "Midnight Special," made it to #20, but became better known when he re-recorded it in 1972 as the theme for the late-night NBC pop music series of the same name.

As Rivers worked in the studios, his basic recording band of Blaine, bassist Osborn and keyboardist Larry Knechtel, coalesced into a group that would record some of L.A.'s classic pop records. "Lou used them on Mamas & Papas records and Barry McGuire's 'Eve Of Destruction,"' Rivers says. Then P.F Sloan and Steve Barri started using them.''

Johnny's next Top 10 record, hot in the fall of 1965, was a cover of Mose Allison's version of "Seventh Son." He freely admits his debt to Allison's version and vocal phrasing. Though he adds, "I kinda did a 'What'd I Say' version of it." He'd become an Allison fan years earlier when he was still touring the South. "There was a little jazz club called the Down Beat in Gulfport, Mississippi," Rivers says. "Mose used to play there. He did 'Seventh Son' and I thought 'WOW what a cool tune!' I got totally turned on to Mose, got all his records and wound up doing a bunch of his tunes live that I never recorded."

"Where Have All The Flowers Gone" peaked at #26 late in 1965. It came from the Imperial LP Johnny Rivers Rocks The Folk and was, according to Rivers, "one of those tunes I'd like to forget...something Lou Adler talked me into doing because he was having so much success with the folk-rock thing, The Mamas & The Papas, and Barry McGuire."


The year 1966 brought Rivers a #3 single, "Secret Agent Man," The popularity of James Bond films led to TV spy shows like The Man From U.N.C.L E. along with British imports including Danger Man starring Patrick McGoohan. CBS bought Danger Man for the U.S., and retitled it Secret Agent. Let Johnny tell the rest: "We were touring Europe and met the producers of that show in England. They were gettin' ready to bring it to the States and asked Lou if we would consider trying to come up with a theme. We thought it'd be great to have a theme on a TV series. "P.F. Sloan and Steve Barri came up with it. It wasn't a complete song. They just had one verse and the chorus. We wound up cutting it for the show and Imperial started getting calls saying, 'You ought to put that thing out as a single.' We had to go back and re-record it and they wrote some more verses."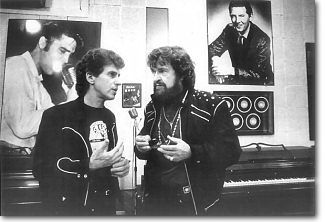 JR with Sam Phillips c. 1991

The song spotlighted Rivers' simple, understated lead guitar. The famous opening riff, he says, was "something I worked up with P.F. Sloan. I mainly played lead out of necessity, because I didn't have a lead guitar player. I considered myself a rhythm guitar player, but I wound up doing these lead things.' "When I'm on the road, guys who play almost as well as Eric Clapton will come up and say, 'I learned to play listening to 'Secret Agent Man.' I think young guitar players could relate to it because (they'd say) 'Yeah, I can do that."

His next single, a cover of the 1965 Stonewall Jackson country hit "(I Washed My Hands In) Muddy Water," broke the Top 20 and fit his go-go style well. It was to be his last hit in that style. His next single, "Poor Side Of Town," signaled a significant change in Johnny Rivers' musical direction.

"I had this tune I'd been working on, and I kept playing it for Lou," Rivers says. "It took me about six months to finish. We cut it with Larry Knechtel, Joe Osborn and Hal Blaine. I did my vocal performances live with the band. I sat and played my guitar and sang. There weren't any overdubs. So we said it could use some singers and maybe some strings. That's the time we got together with (arranger) Marty Paich."

Paich, who arranged for Mel Torme and Ray Charles, put lavish strings on "Poor Side.'' However, Adler and Rivers found Imperial reluctant to tamper with a winning formula. "Al Bennett and those guys were goin' 'Man. don't start comin' out with ballads. You're gonna kill your career. You got a good thing goin' with this funky trio rock sound, stay with that."' "Poor Side Of Town" became Rivers' first #1 record.

Rivers had started his own production company, Soul City, as a label distributed by Liberty. Around that time he heard a tape by an unknown writer named Jimmy Webb. "I wasn't that knocked out with the other songs, but the last song on the tape was 'By The Time I Get To Phoenix,"' he recalls, "and I said 'What a great song. I want to meet this guy.' So he and I got together and went in and cut it."

Johnny included "Phoenix" (he also published it) on his 1966 Changes album and wanted to release it as a single, but he felt it sounded too much like "Poor Side." Realizing its potential, he gave an advance copy of Changes to Glen Campbell's Capitol Records producer Al DeLory. Copying Rivers note for note, Campbell wound up with a hit that advanced him to superstar status. Nonetheless, Johnny's knack for picking singles remained intact. He recorded The Four Tops' 1964 R&B hit "Baby I Need Your Lovin'," and in early 1967 it went to #3, proving Rivers' change in style was correct. He followed up with another inspired Motown cover, "The Tracks Of My Tears," a Smokey Robinson tune that was a #3 R&B hit for The Miracles in 1965. Rivers' version reached #10. Both songs appeared on his Rewind album.

Around 1966 he'd discovered The Versatiles, a male-female R&B vocal group he felt could be "the black Mamas & Papas." "When I met 'em, they were all dressing alike, in the black mohair and the patent leather shoes, strictly a Motown thing," Rivers says. He produced the group, renamed The 5th Dimension, for Soul City. In early '67, their first single, a remake of The Mamas & The Papas' "Go Where You Wanna Go" went Top 20. Later that year their Top 10 version of Jimmy Webb's "Up-Up And Away" firmly established them.

In 1967 The Beatles' Sgt. Pepper album and the "Summer of Love" brought progressive rock to the world. Johnny admired Jimi Hendrix, The Buffalo Springfield, The Doors and the era's other great progressive acts. He and Lou Adler put up part of the seed money for the Monterey Pop Festival. Yet he also saw artists going progressive strictly to be trendy, not because they believed in the music, and he refused to join them. "I never wanted to jump on that (progressive) stuff because I didn't need to and (for me) it wasn't honest," he says, "I would have fallen on my ass just like the rest of them who tried it and didn't do it honestly."

"Summer Rain," James Hendrix' minor-key ballad, had a passing mention of Sgt. Pepper but was otherwise much in the same style Johnny had been pursuing. Early in 1968 it peaked at #14. That year, Realization, his first self-produced album, appeared. It included "Brother, Where Are You," "Going Back To Big Sur" and a cover of Procol Harum's "Whiter Shade Of Pale."

By 1969, his Imperial singles were charting lower. "These Are Not My People" made it to #55, and James Hendrix' "Muddy River" got to #41. His sublime 1970 version of Van Morrison's "Into The Mystic" only reached #51. That same year he almost beat the composer of "Fire And Rain," James Taylor, to the punch with his version, his final single for Imperial. Almost.

"Somebody brought me this album and said there were a couple of really good songs on it," Rivers remembers. "I had never heard of James Taylor. I thought 'Fire And Rain' was a great song so I called James Burton and some of the guys and we went in and cut it. We put it out and it started takin' off. Then Warner Brothers (Taylor's label) woke up and saw it hitting the charts and said, 'We've got something with this guy,' and they pulled out all the stops. The radio stations stopped playin' my version and started playin' James Taylor's."

When Liberty and Imperial were absorbed by United Artists, Rivers remained with the company. He also returned to covering rock classics. His first UA single, in 1971, was a cover of Frankie Ford's "Sea Cruise." It took him back to his Louisiana roots but only reached #84. By 1972 he had formed the band that would back him on his L.A. Reggae L.P. This group, featuring Larry Knechtel, guitarist Dean Parks, and drummer Jim Gordon, could be heard on the single that returned him to the Top 10, Huey "Piano" Smith & The Clowns' "Rockin' Pneumonia - Boogie Woogie Flu," another Louisiana classic and #6 hit in 1972.

"Larry Knechtel was the one who suggested I do 'Rockin' Pneumonia,'" Rivers says. "He collected all those old Ace Records, and of course he played the piano on it which I thought was classic." As for the cohesion that marked the entire album he says, "I had that good studio sound and a tight band with a real groove on it because Jim Gordon was probably at his height at the time."

Rivers toured with a similar version of this group and cut a live album in Paris.Released by Atlantic in Europe, but unissued in the States. His hard-rocking version of "Blue Suede Shoes" gave him his final hit with UA (#38) in 1973. Unhappy with UA's corporate mentality and ever-changing executives, he signed with Atlantic in 1974 and recorded his Road album in Nashville and Muscle Shoals. In 1975 he signed with Epic and remade The Beach Boys' "Help Me Rhonda," a significant record.

"We got Brian Wilson back in the studio," Rivers says proudly. " He sang the high harmony on the record. I played it for him on the phone after I'd cut the track, with my vocal, and we were gonna put some background vocals on it. He said 'It sounds like a hit.' I said, 'Why don't you come down and help us out with it?' I never thought he'd show up. He came down with his wife the next day and put that part on in one take and it was just perfect."

Rivers kept Soul City active for his own singles and promoted them through independent distributors, including his last big hit (#10), Swayin' To The Music (Slow Dancin') in 1977. Once he'd gotten airplay and sales in a number of cities with the song, Atlantic President Ahmet Ertegun suggested he take it to the independent label Big Tree. distributed by Atlantic.

Johnny Rivers has never retired from recording or the road. He's toured consistently and enjoys popularity overseas, particularly in South America. In 1990 and 1991 he has been recording in the same L.A. studio where he recorded many of his earlier hits. He still uses a Gibson ES-335 onstage. He expresses delight with the resurgence of the blues. feeling their honesty and grit have had a cleansing effect.

"It's finally gotten back to where everyone's accepting that genuine sound again rather than the techno-pop stuff," he says. Johnny's songs are testimony to the era of "genuine sound." Genuine is the only way Rivers knew - and knows - how to do it.


Start of page